The origin – Who or what is MBG Weingarten?
MBG Weingarten ist die Abkürzung für Mennoniten-Brüdergemeinde. Die MBG Weingarten ist eine christliche Gemeinde (oder Kirche). Eine christliche Gemeinde ist ein Zusammenschluss von Menschen unterschiedlicher Herkunft und verschiedener Schicksale, die an Jesus Christus glauben, ihn lieben und ihm nachfolgen.
For no other foundation can anyone lay than that which is laid, which is Jesus Christ.

Korinther 3,11
History of MBG Weingarten
The Mennonite Brethren Church Weingarten (also called MBG Weingarten ) was founded in 1992 in Stutensee. The ethnic German Christians (Aussiedler) who had immigrated from the former Soviet Union met in various premises in Friedrichstal and celebrated their church services. The Bible studies took place in the house of the AB-Association in Stutensee-Staffort. Starting in 1997, the Mennonite Brethren congregation gathered in the cemetery chapel in Blankenloch-Stutensee.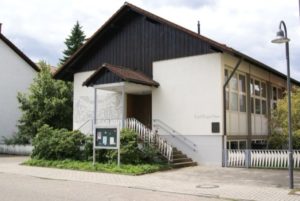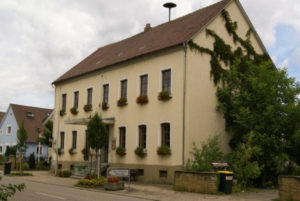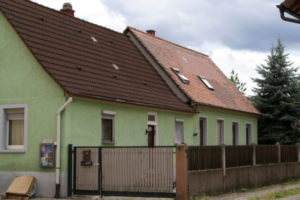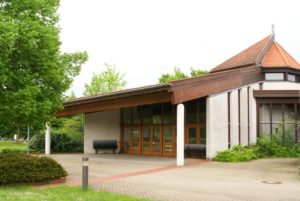 Als die Zahl der Besucher zunahm, suchte die Gemeinde nach größeren Räumen. Es entstand der Wunsch, ein eigenes Versammlungshaus zu bauen. In der Straße Kehrwiesen in Weingarten Baden wurde schließlich ein geeignetes Grundstück gefunden. Der Bau dauerte ungefähr zwei Jahre. 2002 zog die Mennoniten-Brüdergemeinde in ihr Haus in Weingarten um und nimmt seitdem auch am öffentlichen Leben teil.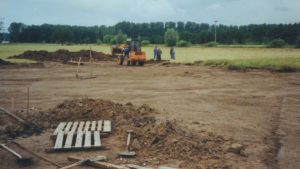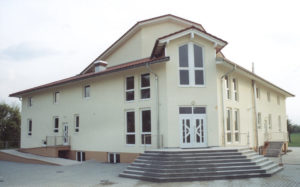 The congregation sees itself as one of the many local Christian churches. Legally, it is registered as a non-profit association at the district court of Mannheim in the register of associations.
Today, MBG Weingarten consists of people with different backgrounds. The services are conducted in German. Russian translation is provided through headphones. If necessary, it is possible to receive a translation in English or Spanish.
Mennonites
The origin of the Mennonites goes back to the Reformation period. The religious upheavals of the 16th century in Europe had left their mark. At the same time, a whole series of Christian congregations arose that wanted to live according to biblical standards. Their special attention was paid to the "essence of the true church" in the time of general ecclesiastical decline. They did not want to build popular churches, but biblical churches after the example of the first Christians. These were to consist only of convinced Christians baptized on their profession of faith. For this reason they were called Anabaptists by their opponents and later Mennonites after Menno Simons, one of the teachers. They liked to call themselves brothers. They agreed with Luther and Zwingli on the three most important basic Reformation insights.
"Salvation comes through Christ alone;
by faith alone;
only on the basis of the Holy Scriptures."
They differed mainly on the issues of the use of force and the understanding of the community. "Right Christians use neither the secular sword nor war; for with them killing is done away with" (K. Grebel). "Only committed Christians belong to the Christian community. Loyalty to the state, but complete autonomy in spiritual matters." In those times, which had no room for dissenters, the young communities were harassed and sometimes severely persecuted. That is why many fled from Central Europe. Some moved eastward, passing through Prussia to Russia and later to Central Asia. The others fled westward and landed in England or North and South America. There are communities of this origin in many countries around the world.
Mennonite Brethren Church
The revival movement in the 19th century. led a section of Mennonites out of highly formalized congregational life back to Reformation principles. They wanted to live a life according to biblical principles and values. They rejected fixed church structures and ceremonies.
It was during this time that the name "Mennonite Brethren Church" came into being. The reform was influenced by preachers from the ranks of the Pietists, Herrnhuters and Baptists. Christians in a Mennonite Brethren congregation call each other brothers and sisters (Matthew 12:50).